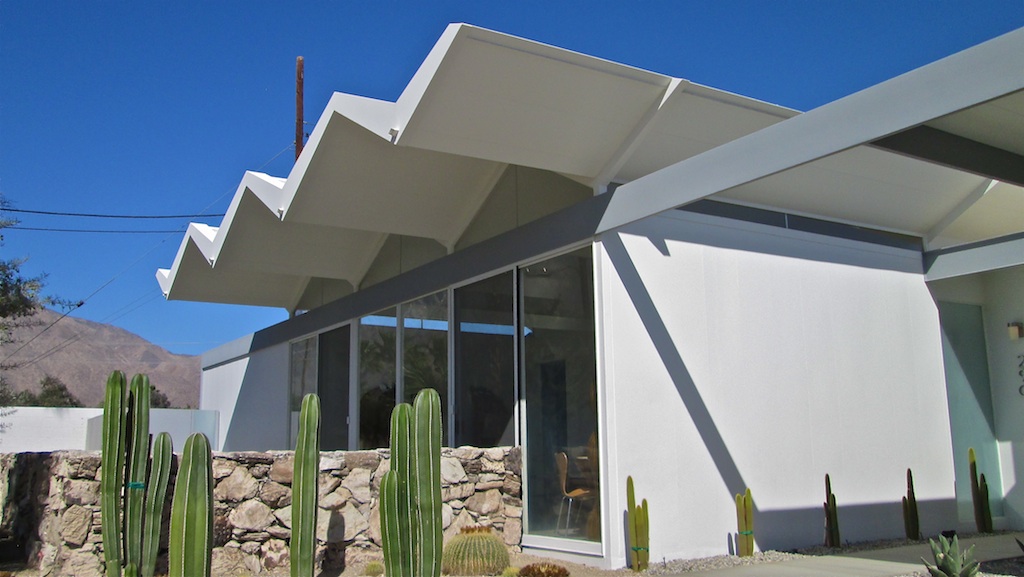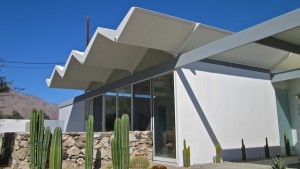 By Ken MacIntyre, January 14, 2017
As far as annual celebrations of all things mid-century modern go, Palm Springs Modernism Week is not to be missed. A 10+ day event held every February where enthusiasts like myself descend on the desert resort town to revere what we love – architecture, design & popular culture from the mid 20th century – Modernism Week celebrates a movement defined by clean lines and casual sophistication; think 'Mad Men' meets 'House Hunters.'
It's a pilgrimage I've been making since 2010 – when a 'week' still barely meant 7 days. Now in its 11th year, Modernism Week is an 10+ day phenomenon that draws thousands of fans from around the world. We tour private homes, attend lectures & screenings, shop for vintage collectables and party like it's 1999, er… 1959, soaking up every ray of mid-century modern sunshine in sight.
But what if your travel calendar precludes a visit to Modernism Week in February? Don't fret, for every week in Palm Springs can be a Modernism Week.
The success of this annual event has, in part, led to a mainstream resurgence in the movement and increased interest year-round not only from like-minded enthusiasts but also from curiosity seekers who want to know what all the fuss is about. From butterfly roofs to clerestory windows, and more, Palm Springs has, arguably, the largest concentration of mid-century era homes and buildings per capita in North America and is definitely worth the fuss!
So, where to look?
Other than Modtraveler.net (of course!), check out the Palm Springs Modern: Mid-Century Architecture Tours App. Produced by the Palm Springs Modern Committee, this dynamic App lists no less than 80 locations that are walkable and driveable within the Palm Springs area and includes virtual guided tours, videos, historic photos and architect profiles, all at the swipe of your finger.
If you'd rather get your analog on (this is Palm Springs, after all), pick up a mid-century modern site map from the official Visitors Center, Destination PSP, or the Architecture & Design Center, for self-guided touring.
And finally, if you'd rather be shown the sites by a local expert while you visit, try one of the Palm Springs Historical Society's seven different walking tours or take a driven tour with the Mod Squad or with Palm Springs Modernism ambassador Robert Imber of Palm Springs Modern Tours.
Any of these options should satisfy those wanting to plan their own Modernism Week, 52 weeks a year.
Six of my own favorite mid-century go-to sites include: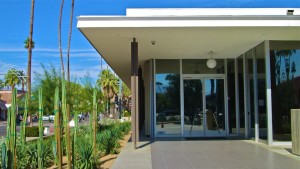 Palm Springs Art Museum, Architecture and Design Center, Edwards Harris Pavilion. Formerly the Santa Fe Federal Savings & Loan designed by E. Stewart Williams in 1961, this jewel box of a building was restored and reopened to the public in November, 2014. It also houses a sweet little mid mod design & gift shop located inside the bank's former vault.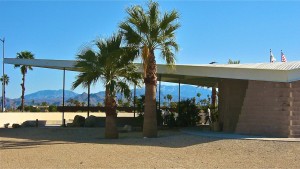 The Palm Springs Visitors Center – Formerly known as the Tramway Gas Station designed by architects Albert Frey & Robson C. Chambers, circa 1965, the Visitors Center is a great example of how jaw-droppingly stunning a building can look when you put a hyperbolic paraboloid on top of it.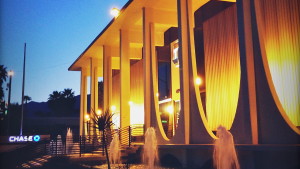 Coachella Valley Savings & Loan No. 3 – Currently occupied by Chase Bank, this stunner was designed by E. Stewart Williams, circa 1960, and was the third in a series of buildings made for Coachella Valley Savings & Loan. It looks equally beautiful by daylight and moonlight.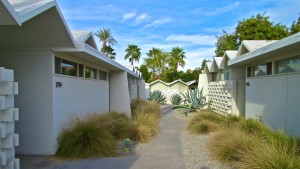 Park Imperial South – Designed in 1960 by architect Barry A. Berkus, this condominium complex in South Palm Springs is the epitome of 1960s cool and its homeowners would be the first to agree. They've continued to maintain and preserve its character to this day, frequently opening it up to the public for tours during Modernism Week.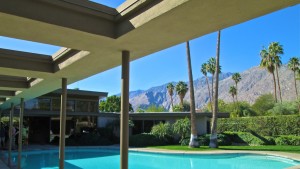 Frank Sinatra House – Frank Sinatra's first Palm Springs residence was designed by E. Stewart Williams in the late 1940s, bringing allure & glamor to the formerly sleepy desert town. This fabulously retro estate is now available as a vacation rental!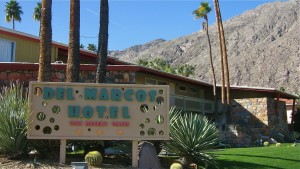 Del Marcos Hotel – The Flintstones meets desert chic! This 17 room, adults-only boutique hotel was designed by architect William F. Cody in 1947 and caters to hep cats who appreciate its unique retro style & cool serenity.
Palm Springs Modernism Week returns February 16 – 26, 2017. For a complete schedule of events check out the official website at ModernismWeek.com
© Modtraveler.net
---