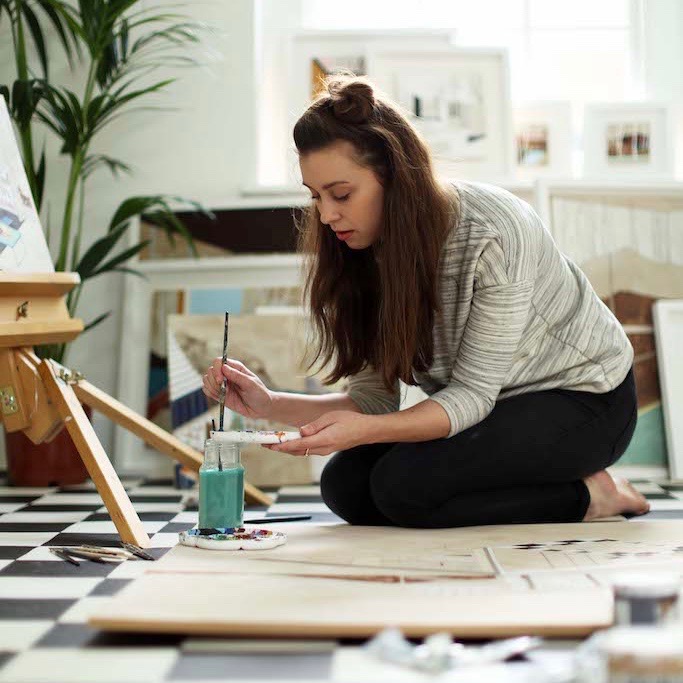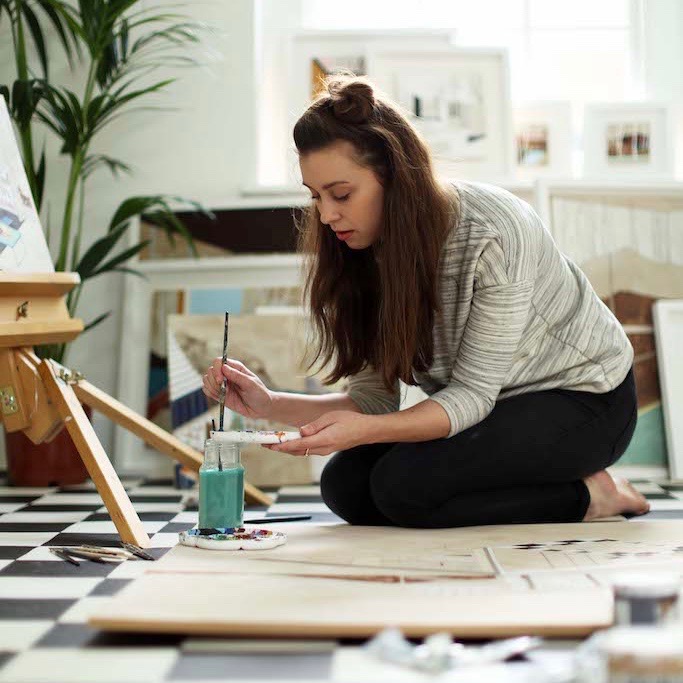 April 1, 2017
When it comes to interpreting the essence of Mid-Century Modern architecture, design and lifestyle as artistic expression, especially in Southern California, many contemporary artists have succeeded in bringing their own unique take to the subject; such as the irrepressible illustrations of artist Josh Agle (aka SHAG), the photo-realism of painter Danny Heller, and the architectural imagery of photographer Darren Bradley, among others.
Add to this list, London (as in, England) –based artist, Charlotte Keates, whose latest batch of original oil & acrylic on traditional gesso ground paintings were inspired by a 3 month retro road trip to over twenty U.S. states and two Canadian provinces.
Modtraveler.net caught up with Charlotte to learn more about her penchant for all things Mid Mod and the transatlantic sojourn which led to her newest solo exhibition.
Modtraveler.net: Why Mid-Century Modern?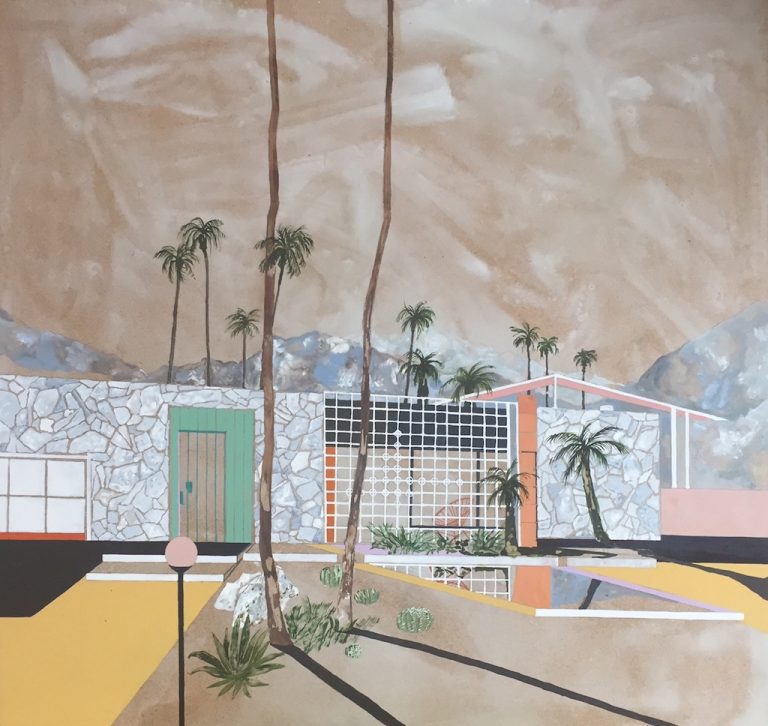 Charlotte Keates: I've always loved Mid-Century architecture and interiors – it's the combination of color, light and form that intrigues me, with the geometric beauty within the architectural forms, and the calming aesthetic that they evoke.
M: Speaking of aesthetics, yours is unique, melding seemingly conflicting abstract forms with more exacting linear ones. Can you describe the evolution of your art form?
CK: I'm always aiming to push the boundaries of perceived space. Although I do love the 1960's and 70's style of interior architecture, it is the dialogue between both inside and outside that particularly interests me.
This has been an evolving theme underpinning all my work, and something I found to be so inspiring in California, specifically in the Palm Springs area. It was like a little bubble of mid-century modern incredible architecture that was made for the outdoors to become a part of, and flood into the interior in one way or another… whether it's the intense lighting that fills a room, casting subtle shadows or a physical atrium that invites nature to grow inside. I'm interested in how both the man-made and the organic work together, deliberately or naturally.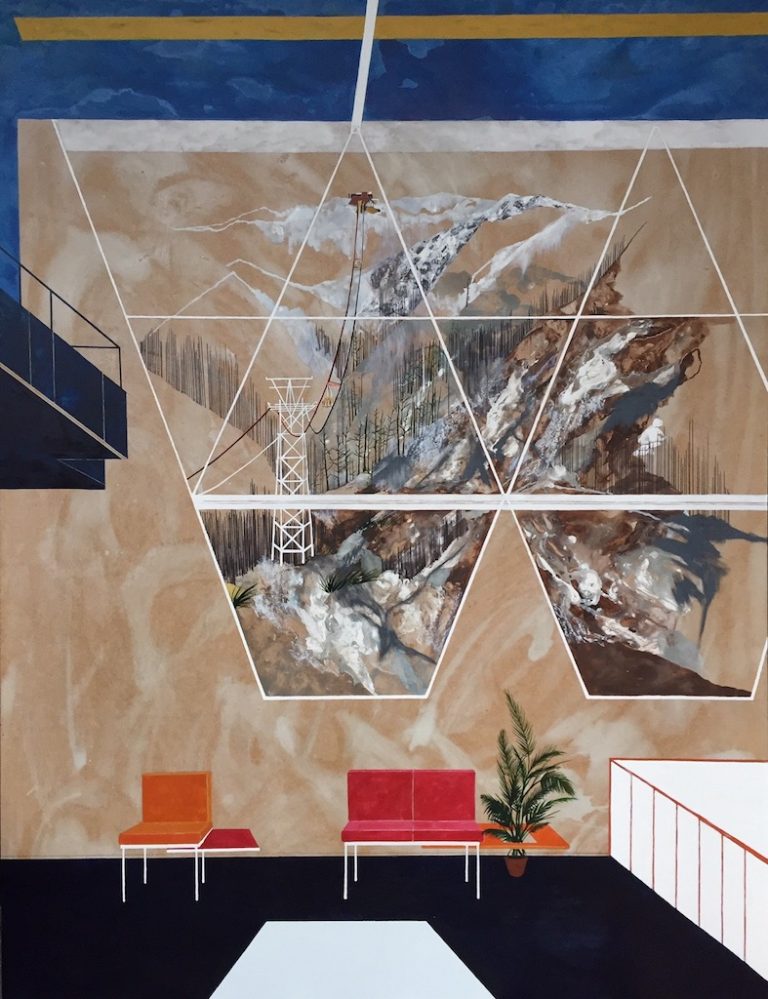 M: What inspired you to set out on a 3 month retro road trip around the US and Canada?
CK: I've always wanted to visit the US and Canada, and so many people have said "your work must be inspired by California" yet I had never even been … so I can now really see why everyone was telling me I had to go!
M: Did you learn or discover anything new about yourself as an artist on this journey?
CK: I realized just how important it is to give myself time away from my practice. I tend to paint every day in my studio in London – it's full on, but I'm doing what I love!
The time spent away from my studio where I could just draw and sketch, allowed me the space I needed to also process new ideas, approaches and aims with my work. Previously when I had an idea, I would simply dive straight on in, but now feel I am approaching each piece a little differently, perhaps with more consideration and I hope this comes through in the work.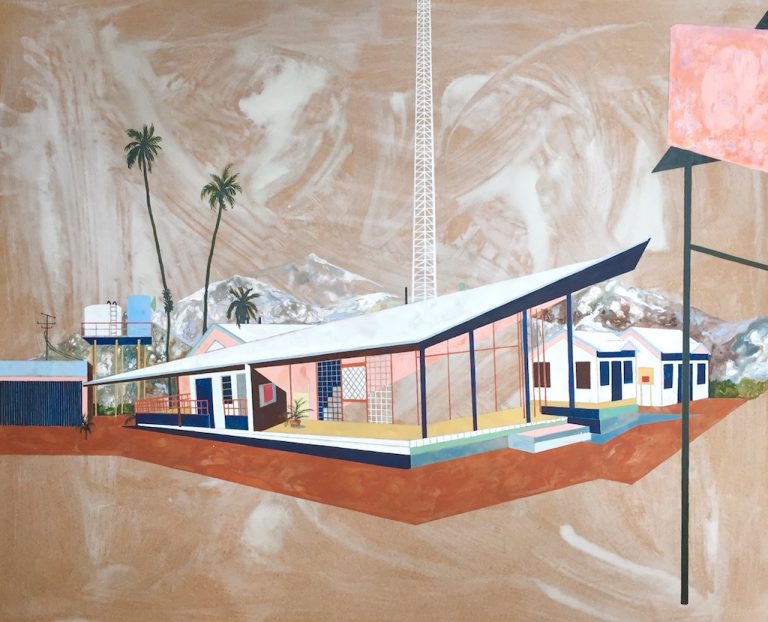 M: What was the highlight of your trip?
CK: This is such a difficult question … one of the highlights was definitely coming across Roy's Motel, without even knowing anything about it. My painting titled 'En Route' is based on the building. It is a motel that we stumbled across in the middle of the Mojave Desert. It was completely isolated, yet left exactly as it used to be in the 50's. There were small out-houses as part of the motel village; with a post office and old petrol pump station next door. The location was eerily beautiful, as if in a time warp – everyone who once worked and lived there had just upped and left one day … nothing but sand and mountains for miles.
M: What do you hope people will take away from your art?
CK: What I really like is that the viewer can relate to my work through their own experiences and create their own individual response – I think that this is so important for my work. I want the viewer to be transported into his or her own world. Fundamentally I would hope to conjure an emotion within the viewer, whilst the spaces elicit a sense of stillness, a peaceful and calm location of contemplation and thought.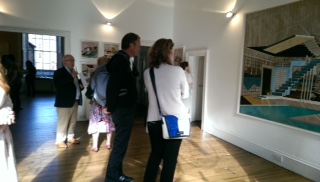 M: You can see Charlotte Keates' newest solo exhibition, appropriately entitled "SOJOURN", at the Arusha Gallery in Edinburgh, Scotland, from May 5 – 30, 2017.
Catch up with Charlotte Keates on Social Media:
Website : charlottekeates.com
Instagram : @CharlotteKeates
Facebook : Charlotte Keates Art
© Modtraveler.net
All Images © Charlotte Keates