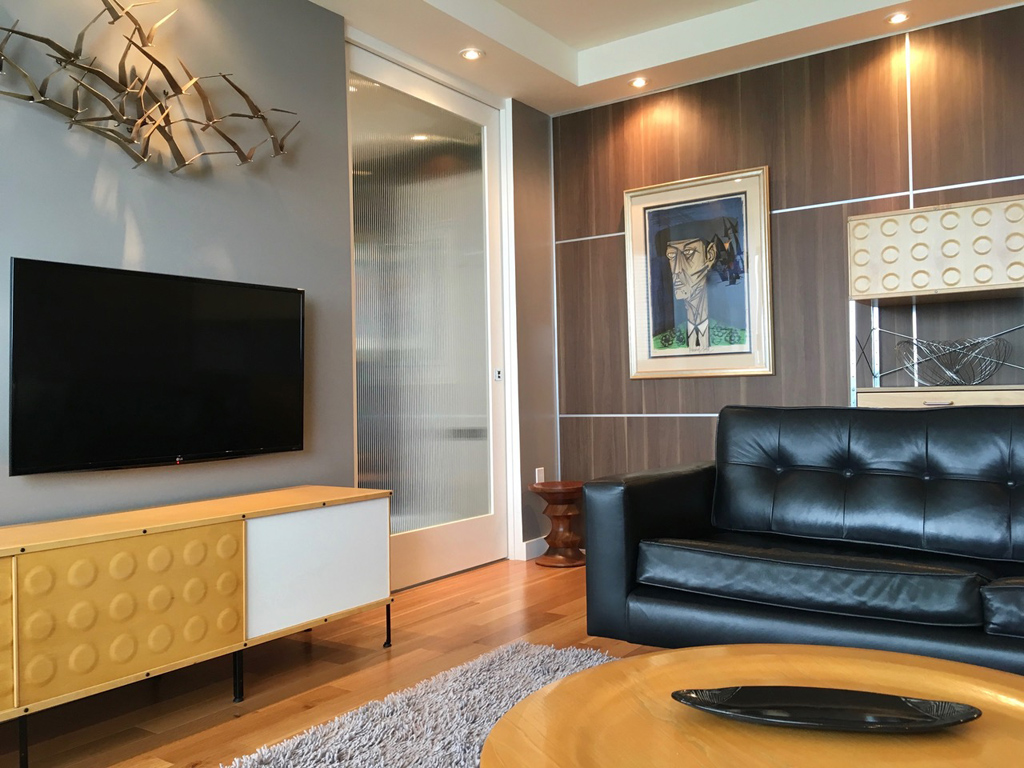 By Ken MacIntyre
September 21, 2017 – When most people think of West Coast Modern, condominiums probably don't come to mind. Rather; mid-century post & beam construction with lots of wood and a coastal setting is more likely the go-to notion, especially in Vancouver.
However, for those living the downtown lifestyle, apartment and condo living is pretty much the only option. So how do you achieve the West Coast Modern esthetic in a 700 square foot apartment?
It's not as difficult as you might think.
When I had the opportunity to move last year, Vancouver's West End was my neighborhood of choice. It's a one square kilometer peninsula (coastal!) adjacent to downtown and boasts the largest concentration of mid-century residential buildings in the city.
I scored an original unit – ripe for a makeover – in a mid-1960s modern high rise.
Not so modern by today's standards, however, were its closed-off kitchen, wall to wall carpeting and Pepto-Bismol pink bathroom. Ah! That's why the post-it note on the front door said "sold as is." The bones were there, though, for a Mad Men-style remodel that my contractor (Ian MacPherson) and I went to town on.
The renovation took place earlier this year and it was a real process. Now that it's done, I've got three takeaways to share about creating a West Coast Modern look in a small space.
TO ADD OR REMOVE?
When renovating, most people tend to knock down walls to open things up, especially in mid-century dwellings where rooms were set apart. It's a great idea, however, when it came to my front door entrance flowing straight into the living room, I wanted to close it right off. I know, right?! Ian my contractor thought I was nuts.
Frank Lloyd Wright's "compress and release" concept is what I was going for, so the hallway ceiling was lowered and a pocket door wall with reed glass was added to isolate this area. The result is a grander reveal when the door slides open, and the reed glass evokes a classic 1960s esthetic.
Ian and I were on the same page when it came to opening up the galley kitchen, though; removing a portion of the wall which separated it from the living room resulted in more usable counter area and an accessible, contemporary feel.
We also removed part of the hall closet to create additional square footage resulting in a more formal entry area where people can sit to put on their shoes.
REPEATING TEXTURE AND PATTERN
In the kitchen, we juxtaposed faux walnut cabinets – for that warm West Coast wood feel – with tinted glass, clean quartz counter tops and retro diamond pattern wall tiles, and by repeating the same patterns and textures from room to room we made things more cohesive which left the space looking larger.
We carried the same wall tiles into the dining area, and gave the living room a vintage West Coast Modern esthetic by reusing the faux walnut wood (from the kitchen cabinets) on a feature wall.
A completely different and more subtle diamond shaped tile was used as part of the bathroom tub surround, yet still referenced the diamond wall tiles used elsewhere in the apartment.
On the floors we used ceramic travertine continuously throughout the kitchen, entrance hall and all the way into the bathroom, while the living, dining and bed rooms each boast natural vintage maple engineered hardwood, reminiscent of original mid-century flooring.
VINTAGE DECOR
As you can clearly see by the accompanying photos, I didn't hold back when it came to the mid-century modern décor! In fairness, I've spent years collecting this stuff and most of what I owned went into filling the new space.
Before decorating, though, I wanted to imbue my surroundings with warmth. The faux walnut wood feature wall in the living room went a long way to attaining that goal, and by painting the other walls in hues of soothing taupe and deep ocean blue colors, I'm happy to report that warmth was achieved.
While decorating, I also wanted to integrate something from this region and since I was going for a West Coast Modern style, I made room for two new pieces that screamed to be incorporated.
The metal wall sculpture above the television is a late 1960s Curtis Jeré, and although not from Vancouver, you can see how the birds/seagulls are perfectly suited for this environment. I can't imagine anything else going in this space.
Perhaps the most appropriate find for my new West Coast Modern condo, though, is the serigraph, 'Convoy at Rendezvous,' circa 1948, which reflects the region's natural surroundings and is by renowned Canadian artist and architect, Bertram Charles Binning  (1909-1976)  from Vancouver. It's featured prominently in the bedroom.
So, for those still thinking a West Coast Modern look can only be achieved in a 1960s post & beam style rancher, I hope these remodel takeaways will help inform and inspire; small spaces can be transformed too. If you'd like to share your own makeover ideas and photos, I'd love to hear from you, just reach out on the Contact page.
© Modtraveler.net, All Images © Ken MacIntyre