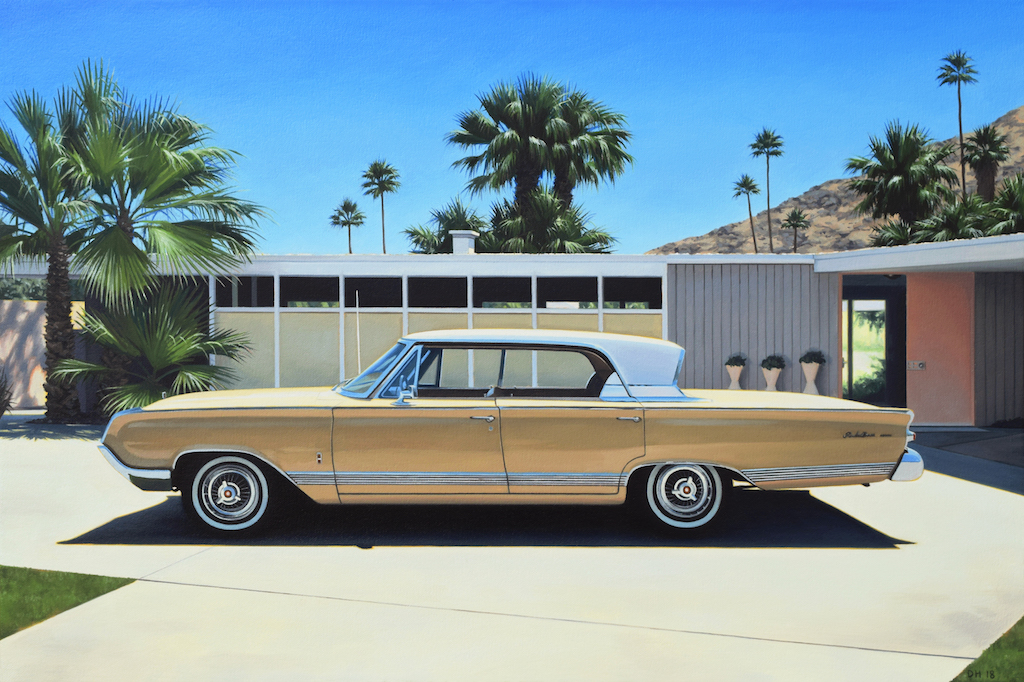 Danny Heller's Paintings Evoke Mid-Century Americana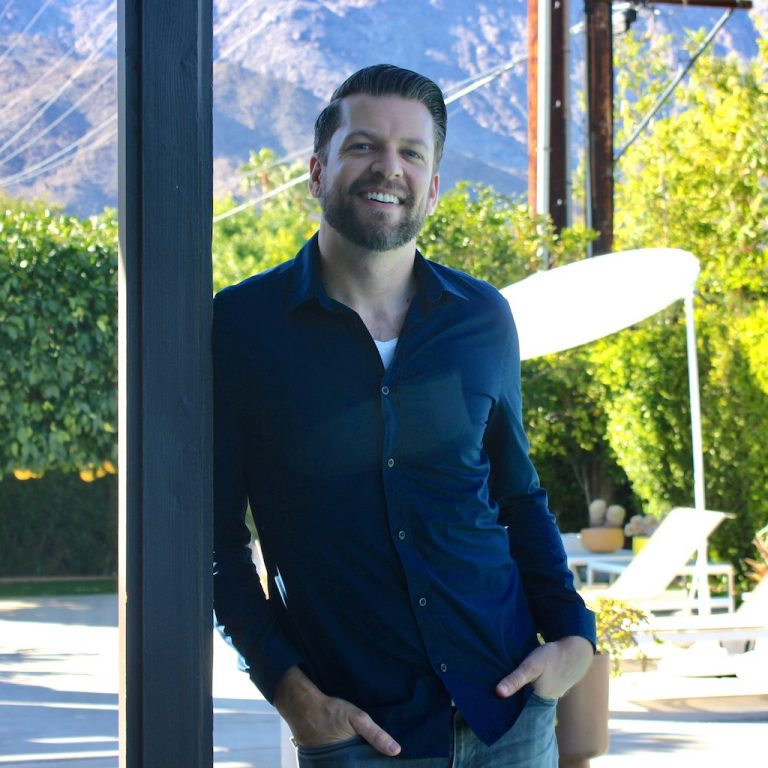 April 19, 2018 – Artist Danny Heller was ahead of his time, so to speak, when he began immortalizing Southern California's modernist architecture of years gone by.
In the early 2000s few people cared about the region's forgotten mid-century tract homes, but something about the Golden State's much maligned suburban sprawl spoke to the recent art school graduate and he started recreating these modernist dwellings in his photo-realistic oil paintings.
Despite thinking his subject matter was "bland" only a decade earlier, the San Fernando Valley native tapped into the visual language of the suburban culture he'd grown up with and soon found himself contributing to a wave of nostalgia which has made midcentury modern architecture, design and Southern California car culture more popular than ever.
Heller's work has since shown all around the U.S., including at the world famous La Luz de Jesus Gallery in L.A. and the George Billis Galleries in Los Angeles and New York; his home base since 2011.  His first major international show, aptly named "California Cool" will be held in Spain beginning at the end of this month.
Modtraveler.net caught up with Danny Heller just before he jetted off for Madrid.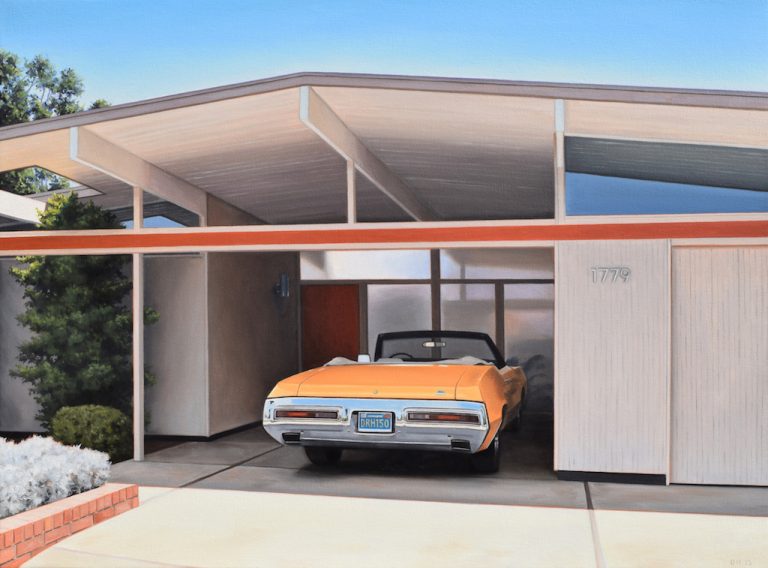 Modtraveler: Growing up in Southern California during the 1980s and 90s, was there anything about the area's overlooked mid-century architecture that spoke to you at that time?
Danny Heller: It's funny, I grew up in the middle of the suburbs – the San Fernando Valley – and I never thought much of it.  I was young, so I didn't recognize or appreciate the idea of the suburbs, the post-war boom, the style of homes and buildings around me.  I did relish the wide-open expanses on which I would skateboard and mountain bike.  It was idyllic, if not a bit bland.  The ever-present car culture of the Valley did start to have an influence on me though and only later would I start to pick up on the architecture of SoCal.
Mod: You graduated from UC Santa Barbara's Fine Arts program. What drew you to art in the first place?
DH: My early influences were comic books and animation since our family didn't really do art museums.  But those mediums were a great introduction to color, form, and narrative.  I would always have a sketch book with me and always be doodling.  But I never planned on becoming a fine artist – my sights were initially on the film industry, doing storyboards or production design.  After some internships and careful research, I walked away from that idea but kept painting.  Eventually it led to gallery shows which encouraged me to keep going and try it professionally.   
Mod: Why painting, specifically?
DH: I was a horrible sculptor! I think painting was the most respected and appreciated of the mediums, and was my best shot at any commercial success.  Drawing seemed to still be regarded as a tool for planning – the initial stages of laying out a design, a painting, etcetera.  I wasn't confident enough or ambitious enough to get into the installation art realm either.  Painting was a great option to connect with people in a language I understood.
Mod: As a painter, what's your preferred medium?
DH: I prefer oils because of their color qualities and their blending properties.  I actually grew up mostly painting with acrylics and watercolors though.  They're both fine mediums and every now and then, I'll pick them up for a specific project.  Recently, I've gotten into gouache which is sort of a cross between acrylic and watercolor.  They're really exciting to work with because the result is so immediate, unlike oils which take time and patience to plan out and build layers.  They also lend themselves to the type of architectural paintings I do since classic mid-century architectural renderings were all done using gouache.
Mod: What drew you to photo-realism?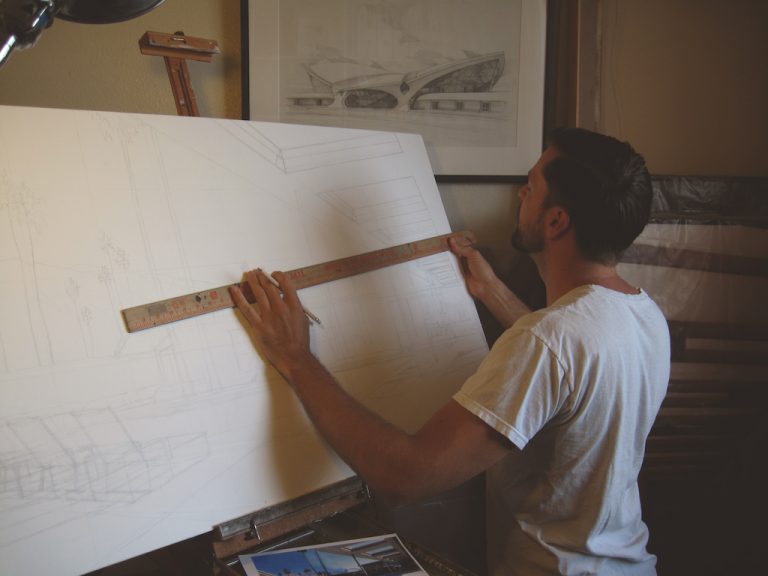 DH: I started out doing a lot of plein aire painting and enjoyed it a lot, but realized there were limitations: I didn't like the light changing so quickly, I tended to get bugs and dirt stuck in my paint, and it was harder for me to work out compositions.  I started painting entirely from photos, initially as reference tools, but then relied on them more and more.  My lighting got better, my compositions got better, and I felt that the audience would take the paintings a bit more seriously if I displayed the skill of painting something as they would recognize it in a photo.  They would stop and remark on the skill and then stay for the subject matter!
Mod: There must be many challenges to working in this style.
DH: The main challenge of working in a photo-realistic style is that you have to really bring it.  You can't render a car realistically and then cop-out when it comes to the palm trees.  There's a little leeway to work in some gestural elements, but for the most part, the canvas needs to be unified.  So it really forces you to pay extra careful attention to all the details in the photo – the lighting, the relationship of colors – and make sure everything is rendered in a three-dimensional form.
Mod: What is it about the mid-century modern esthetic that made it your subject matter of choice?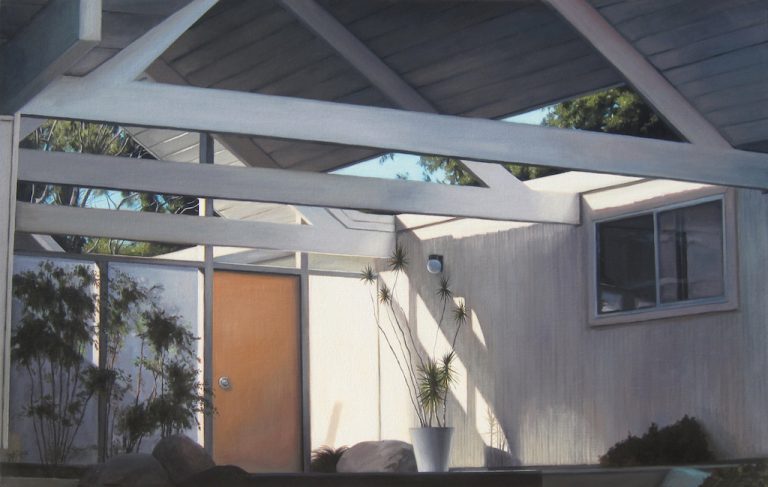 DH: So when I said the suburbs were a bit bland, that really was my thinking growing up there.  But when I returned after college, I started picking up on the "culture" of suburbia.  I would recognize the feel of it in movies like "Edward Scissor Hands" and tv shows like "The Brady Bunch."  I realized there was a visual language there that was only beginning to be explored.  I eventually started doing paintings of the post-war tract homes around me, mixed with the classic car culture. Eventually that lead to the more high-designed midcentury tracts like the Eichlers in my town.  Once I started painting them and learning about them, I never looked back.  They were so dynamic and yet understated.  They were also under appreciated.  This was the beginning of the 2000s and nobody was painting them realistically, with very few people even photographing them.
Mod: Within the realm of mid-century modern, do you have a preferred subject you like to paint?
DH: My fascination, or obsession, with mid-century modernism has taken me throughout California and even New York.  I started with mid-century tracts in LA which lead to tracts in Palm Springs.  But
eventually I wanted to challenge myself with other forms of Modernism.  I did a whole series on the Googie architecture of the LAX Theme Building.  Then I investigated the remnants of Modernism that still exist in Downtown LA.  That was a nice change since it forced me to work vertically after having spent so many years with the horizontal landscapes of the suburbs.  But the humble mid-century homes of the suburbs is really where my heart lies.  Homes coupled with cars from the era.  I think I could do paintings of those forever!
Mod: You've had great success, but what was the initial reaction to your work like?
DH: Fortunately, the response has been really favorable to my work.  My shows have had strong sales, with most of the work either selling during the openings or shortly thereafter.  I think initially, people were blown away that an artist was painting mid-century architecture – they had never seen it immortalized in painting form.  I've had write-ups and interviews in international press, collectors around the world, and my work is in some noted museums including the Long Beach Museum of Art and the Palm Springs Architecture and Design Center.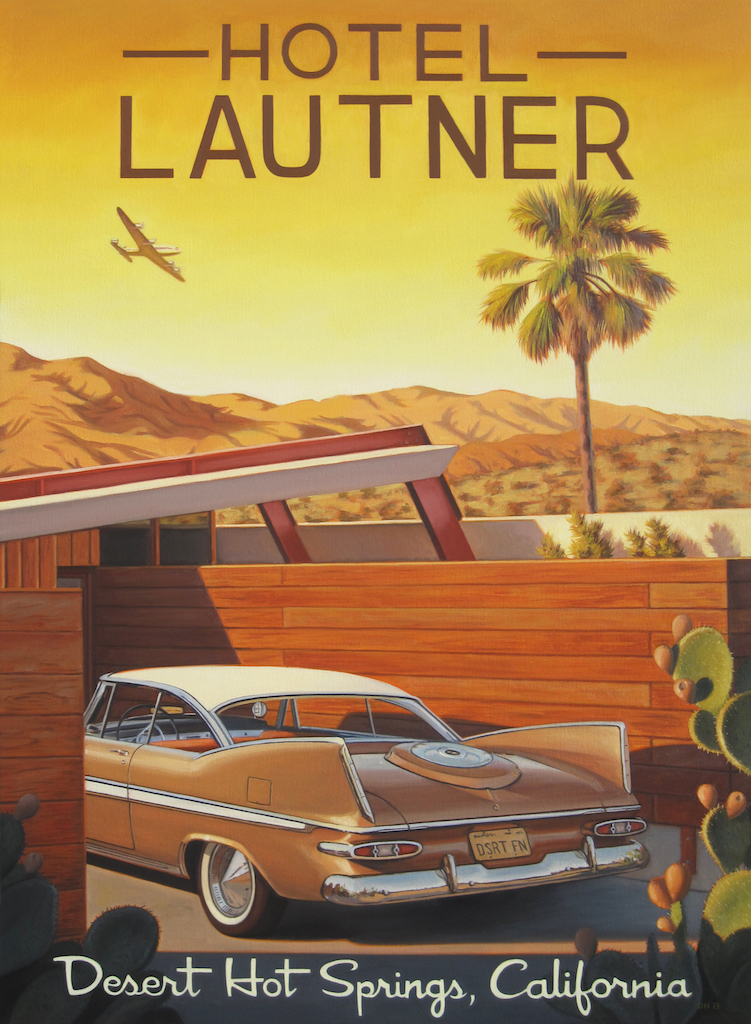 Mod: As a result of your success, has anything happened that you weren't expecting?
DH: Funny story, I actually ended up meeting my fiancé through my success as an architectural painter.  My neighbor in L.A. had seen my work and contacted me about doing a painting of the building he co-owned in the desert, the Hotel Lautner – the only hotel designed by the famed architect John Lautner.  When I went to scout it for a possible painting, I ended up meeting the other owner who I instantly fell in love with.
Mod: That sounds like destiny! So, including meeting your fiancé, I guess you could say you've done pretty well. Do you want to try anything new or different with your art?
DH: Moving forward, I'd really like the opportunity to go big.  I'm thinking something in the museum realm where I could not only exhibit my drawings and paintings, but also do an interactive installation and maybe even a short film.  I think growing up, seeing the power of animation and how it perfectly marries art and narrative, left an impression on me.  It would be such a creative outlet to try, and displayed with the rest of my work, could make for a very interesting – and fun – exhibition.
Mod: What are you working on now?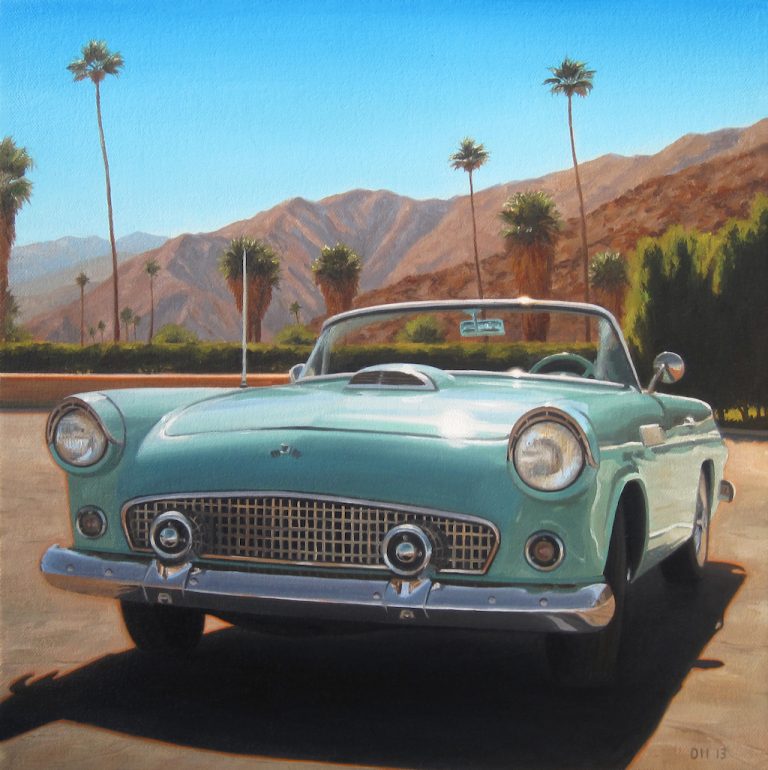 DH: I just finished wrapping up work for my first international exhibit at La Fiambrera Gallery in Madrid.  Titled "California Cool," I want to spread my visual vocabulary of mid-century California architecture and design to Europe.  It's been a fun undertaking and hopefully I'll have future opportunities to show abroad. Also, I'm hoping to publish a book of my artwork soon so that people who can't make it to a gallery can still see my work.  My goal has always been to help expose people to mid-century Modernism, and make them really appreciate it.  I'm a strong proponent of conservation and only when people recognize the value of something will they then fight for it.
Danny Heller's first major international show will exhibit at the La Fiambrera Gallery in Madrid, Spain, from April 27 thru June 3, 2018.
For more information on Danny Heller, visit his website, DannyHellerArt.com.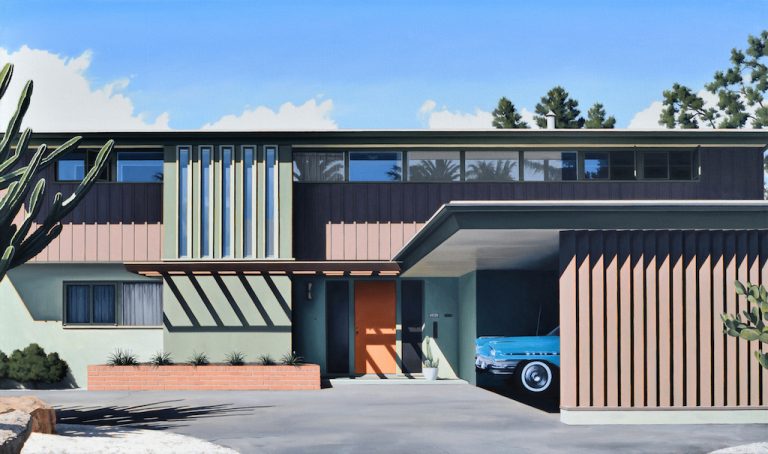 © Modtraveler.net
All Images © Danny Heller