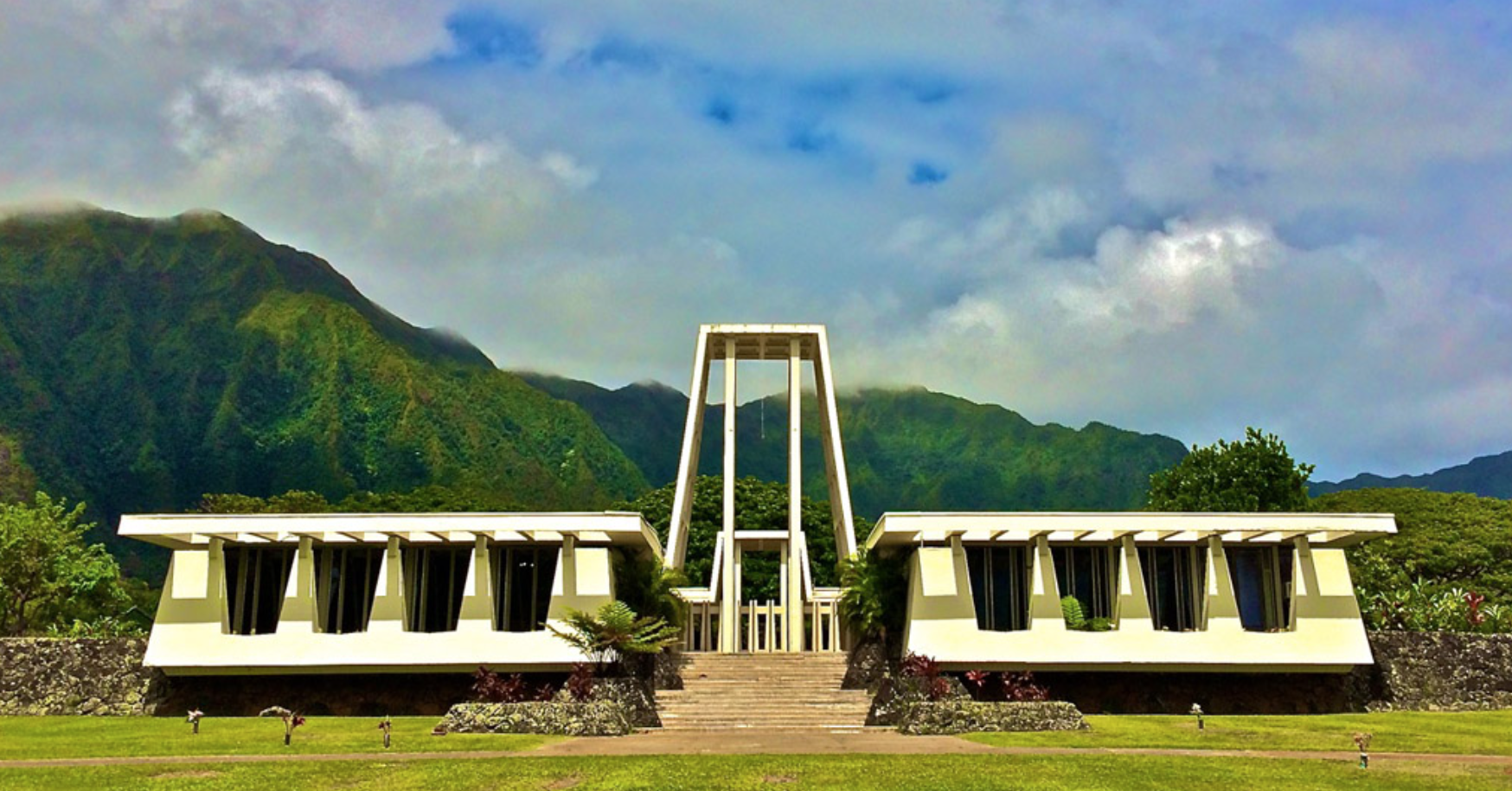 Sensitive renovation gives historic building new purpose 
By Ken MacIntyre (March 1, 2023)
Located on the windward (eastern) side of Oahu near Kaneohe, the Valley of the Temples Memorial Park – best known for its 1968 replica of the 11th Century Japanese Byodo-In Buddhist Temple – was founded in 1963 by prolific real estate magnate Paul Trousdale (Palm Springs' Racquet Club Cottages West and Trousdale Estates in Beverly Hills).
It is the final resting place for thousands of island residents.
The Memorial Park's arresting Family Services & Administration building, designed by architect George "Pete" Wimberly in 1965, is what we're singling out here. An achievement in modernist architecture made even more noteworthy since its potential demolition had been on the table just a few years ago.
Designed to resemble a Hawaiian temple (heiau) this evocative concrete, lava rock & wood structure with its graceful squared-off arches reaching for the heavens, effortlessly displays how Mid Century Modern architecture can transcend itself and become more … much more.
In 2018, led by Fung Associates Inc., extensive renovations were made after an approved design was developed in consultation with the Historic Hawai'i Foundation. This ensured the preservation of the original building's historical and architectural integrity while introducing a conducive modern style and new functionality.
While adding over 4,000-square-feet of new space to any historic structure may sound like a risky proposition, much of the building's character-defining features were preserved, including the lava rock platform, its vertical arches and many other decorative elements throughout. Thoughtful changes and additions included the enclosure of its central courtyard while adding a covered lana'i to the building's north side.
By respectfully expanding the building's capacity, all involved have remade the original Family Services and Administration building into the Hawaiian Memorial Park Mortuary at Valley of the Temples, a full-service mortuary, chapel and reception area, the largest facility of its kind on the island's Windward side.
Said Sharmaine Mayo, director of mortuary operations, "A cemetery's role is to preserve memories and history for future generations. Through our partnership with Historic Hawai'i Foundation, we've found a way to not only preserve the original integrity of the building, but to also expand it to better care for the families we serve."