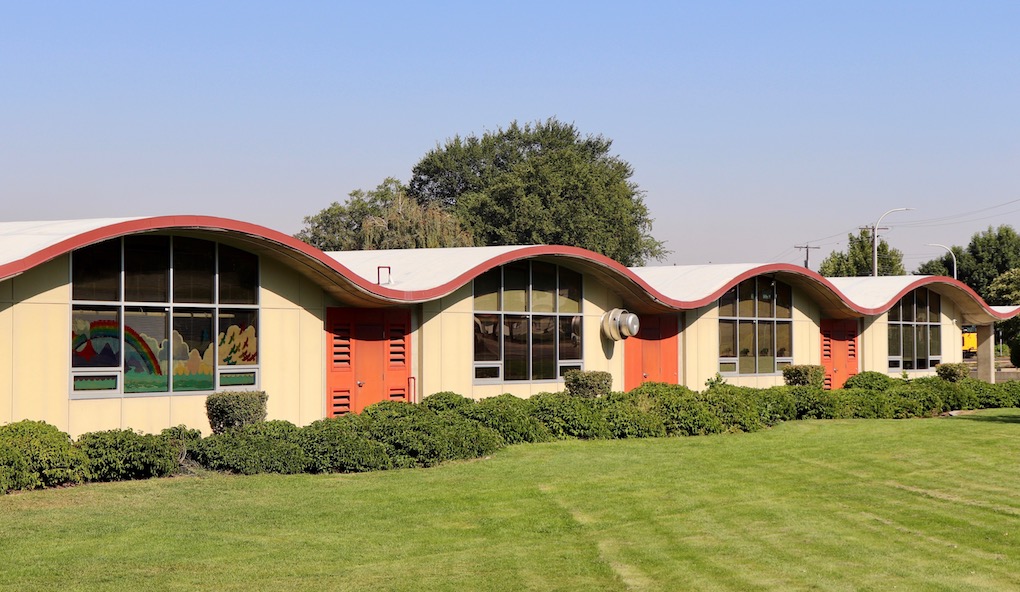 Washington offers road-trippers plenty of Mid-Century gems
Written and Photographed by Ken MacIntyre
May 1, 2023 – When people are asked what their favorite mid-century spots are in Washington State they might list the iconic Space Needle, the Pacific Science Centre or even Dick's hamburger drive-in. Not surprisingly all three of these modernist treasures are located in Seattle.
However, for those who like to discover their MCM in less obvious locales, a retro road trip east of the Emerald City reveals an abundance of mid-century gems. From North Bend to Spokane and everywhere in between, here's a sampling of our favorite Washington State retro sites, east from the Cascades.
North Bend
This Snoqualmie Valley town boasts some key locations from the cult TV show Twin Peaks, including Twede's Café which played the Double R Diner. The 1940s era Coffee Shop was originally called Thompson's Diner, then in the 1950s its moniker changed to the Mar-T Café when a brand new neon sign was added (and remains, to this day). It's been known as Twede's Cafe, named for its previous owner, since the late '90s. • Other stand-outs in North Bend include Scott's Dairy Freeze, a classic mid-century drive-in from 1951; the streamlined North Bend Movie Theatre, built in the art moderne style from 1941; and the Mt. Si Motel, a low slung 1950s motor court also used in Twin Peaks.
Cle Ellum
This satellite bedroom community in the north Cascades is home to the oldest telephone museum west of the Mississippi with displays featuring telephone technology from the late 1800s through to the early 1970s. Cle Ellum, which means "swift water" in the language of the Kittitas Indians, is also lucky enough to have a couple of original 1950s drive-ins that are still frequented by loyal customers from miles away. The Red Arrow drive-in has been serving up tasty burgers and shakes since 1953, as has the legendary Twin Pines drive-in, since 1958.
Wenatchee
Located near the eastern foothills of the Cascade Mountains, Wenatchee is worth a stop for its mid-1960s New Formalist-style buildings which include a former United States Post Office (now City Hall) and a Bank of America building which has been repurposed as a boutique home goods store. Its wavy-looking Pioneer Middle School building (pictured at the top of this page), designed by Seattle architects Naramore, Bain, Brady & Johanson, built in 1957, is also a real standout. • Chuck's Thrifty Gas, a vintage service station displaying roadside ephemera like old fuel pumps and signs, is a real curiosity and a perfect pit stop for retro road-trippers. But don't expect any service … or gas, as this time-capsule is strictly for gazing at. • Speaking of signs, Wenatchee also boasts one of the few remaining original Neo-Lectra signs which is topped with a giant atomic-age neon sputnik-like star, from 1961 at the Sav-Mart plaza. • The nearby Bavarian village of Leavenworth is also worth a quick side-trip. Reinvented in the 1960s from a tired logging town into a kitschy mid-century Alpine wonderland, Leavenworth is a short 30 minute drive from Wenatchee.
Ellensburg
An early center of commerce in Washington State, Ellensburg is home to the Central Washington University where you'll find an array of architecture including Bouillon Hall, a former library built of reinforced concrete and a unique brick honeycomb veneer. Designed by acclaimed Seattle architect Fred Bassetti, it received the Washington State American Institute of Architects Honor Award in 1961. • When it comes to roadside architecture, Crossett's vintage Mobilgas is hard to beat for its old timey vibe. Built in 1936 and named for Bruce Crossett who restored the former Gilmore service station on old Hwy 10 in the late '90s, it now houses the Red Horse Diner, a tasty 1950s-style restaurant which boasts an extensive collection of vintage porcelain and metal signs as well as unforgettable burgers and fries. • Also serving the community are a pair of vintage, low-slung burger drive-ins that will have you harkening back to the days of American Graffiti; the Campus U-Tote-Em, circa 1951, and Rossow's U-Tote-Em from 1966.
Yakima
Also known as "the Palm Springs of Washington" (really!), Yakima has a few architecturally significant buildings including the city's first skyscraper, the A.E. Larson Building, a sleek eleven-story Art Deco structure designed by John W. Maloney, as well as the National Bank of Washington (now Wells Fargo) built in 1968 and designed in the New Formalist style by Yakima local James D. Cowan. • For mid-century sign hunters, Yakima may have more vintage neon than any other city in the region, including the recently restored 1960s neon duck hunter sign at the Sports Center Bar & Restaurant, downtown. In fact, one of the collections at Yakima's impressive Valley Museum features many of the city's former vintage neon signs. • Not to be overlooked, Yakima's also got a couple of satisfying mid-century drive-ins still doing brisk business; the Lariat Bar-B-Q has been serving 'em up since 1962, and the 1950s style Pepp'rmint Stick Drive-In (technically, in Union Gap) has been family owned and operated since the late 1940s.
Zillah
Listed on the U.S. National Register of Historic Places, the Teapot Dome Service Station is a must-see on your journey between Yakima and Spokane. An example of Programmatic Architecture, the station was built by Jack Ainsworth in 1922 on what would become U.S. Route 12, when the U.S. national highways system was beginning to expand. It continued to operate as a full service gas station in a couple of different locations into the early 2000s before it was closed and purchased by the city, then relocated again in 2012. It currently serves as Zillah's visitors center.
Spokane
The second largest city in Washington State is also known for many notable pre and post-war modernist structures designed by nationally recognized architects.
In the 1930s Spokane generated several eye catching Art Deco and Streamline Moderne buildings that are still around, including the Felts Field Airport Terminal, circa 1932, and the Fox Theatre from 1931, designed by Robert Reamer, much of whose work is listed on the National Register of Historic Places. • Unique Programmatic architecture also left its mark on Spokane with the Garland and Benewah Milk Bottles from 1934 and 1935, designed by famed Spokane architects Whitehouse and Price. The Milk Bottles served as dairy retailers until the 1970s and have since been repurposed as a 1950s-style diner (Mary Lou's Milk Bottle) and a therapy clinic.
Of Spokane's many post-war modern architects, three studied under Bauhaus founder Walter Gropius, at Harvard; Bill Trogdon, Bruce Walker and Royal McClure. Collectively, their designs helped shape mid-century Spokane. In fact, several of the city's renowned modernists came together with Walker and McClure to design the sublime U.S. Courthouse downtown. The New Formalist style building was erected in 1967 and was credited to Culler, Gale, Martell & Erickson; McClure & Adkinson; and Walker & McGough. • Also located in downtown Spokane is the Parkade Plaza Parking Garage, a 10-story New Formalist shrine to the American automobile. Designed by Warren C. Heylman and built in 1967, this impressive structure was credited with helping rejuvenate the city's downtown core by creating parking for nearly one thousand more automobiles.
Other notable mid-century modern locations in Spokane include the Washington Water Power Central Service Facility (now the headquarters for Avista), a five-story curtain wall building designed by architects Brooks & Walker, and recipient of the American Institute of Architects (AIA) First Honor Award in 1959; the atomic age KXLY Broadcast Center, a futuristic looking commercial structure designed by architects James & Hicks in 1964; Dick's Hamburgers (not to be confused with Dick's Hamburgers from Seattle), a space age Googie style drive-in designed by local Spokane architect Douglas Durkoop in the mid-1960s; and the St. Charles Borromeo Catholic Church, designed in 1961 by architects Funk, Murray and Johnson, which features a dramatic hyperbolic paraboloid roof arching over a tall brick clad cylindrical form flanking its entryway. The church was recognized by the AIA with an award for outstanding contemporary architecture.
In 1974, the city hosted the World's Fair, and although its legacy does not include another Space Needle like that of Seattle's 1962 World's Fair, Spokane's innovative and angular looking Washington State Pavilion and Opera House (now the First Interstate Center for the Arts), designed by the firm Walker, McGough, Foltz and Lyerla Architects, definitely still turned heads. It was the centerpiece of Expo '74 and hosted many renowned artists like Jack Benny and Ella Fitzgerald. It has since established itself — along with other structures too numerous to list — as part of Spokane's lasting mid-century architectural heritage.
Writer's note: the preceding recommendations are by no means the only mid-century treasures you'll find in Washington State. If you keep your eyes peeled, there's lots more to discover. For an extensive list of mid-century Spokane architecture, visit:  MidcenturySpokane.org