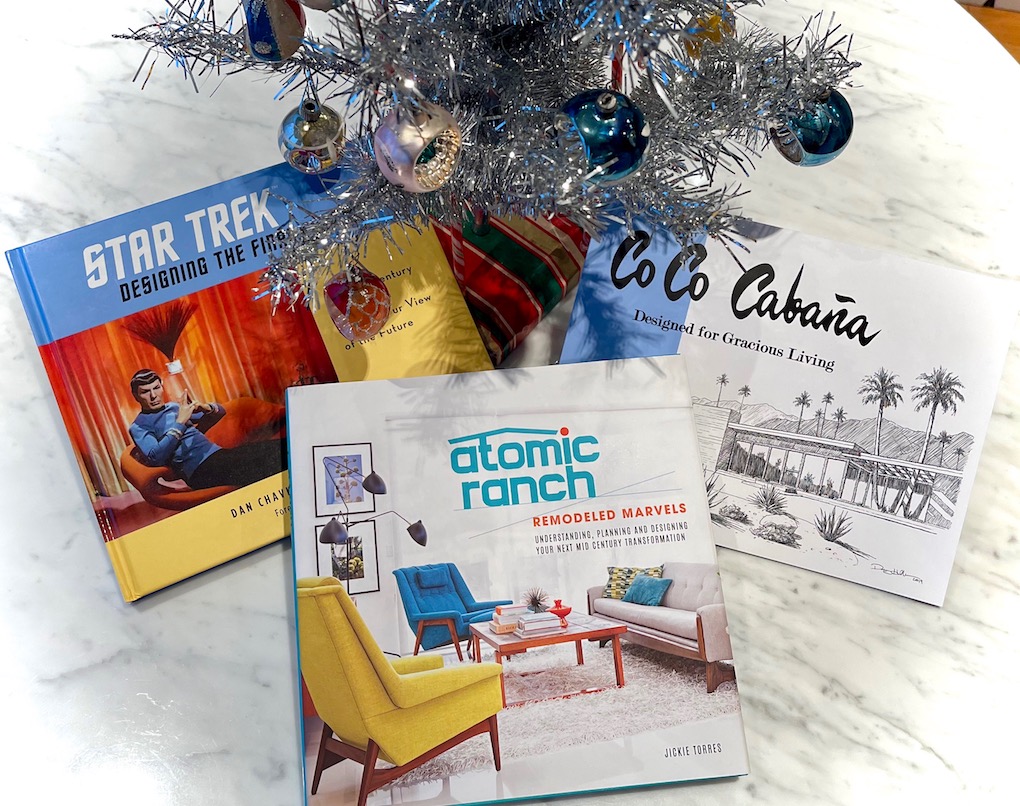 Holiday book ideas for your favorite Modernista!
By Ken MacIntyre
November 13, 2021 – 'Tis the Season, as they say, so what better way to show your favorite modernism enthusiast you care than by not going green this Christmas. Forget those shiny smart phone apps and futuristic virtual downloads. What your Midcentury Modernista really craves – aside from maybe another egg nog cocktail – is a good old fashioned … book.
That's right … from coffee table tomes to retrospectives and biographies, there's nothing quite like a cherished collection of titles to fill a bookshelf. With that in mind, we've gathered up 3 of our favorite stocking stuffer ideas (less is more!) which should satisfy fans of midcentury modern design and pop culture.
Atomic Ranch: Remodeled Marvels: Understanding, Planning and Designing Your Next Midcentury Transformation
From vintage renovations and makeovers to designing and decorating; for nearly two decades Atomic Ranch magazine has been the modernism community's preeminent purveyor of midcentury modern home design. It should come as no surprise, then, that Remodeled Marvels makes for an indispensable addition to the sought-after quarterly. With her insightful new book, author and editor Jickie Torres assembles a collection of beautiful color photographs from Atomic Ranch's most memorable home transformations and distills years of accumulated knowledge into a slick and substantive do-it-yourself guide for midcentury enthusiasts. Unsure about MCM home ownership? Which mod style best suits you? These questions, and more, are handled with aplomb along with an extensive room-by-room look at what makes timeless design and comprehensive resources to help transform your own space into a midcentury marvel. Engaged Media LLC, Hardcover, 192 pages, October, 2021
Star Trek: Designing the Final Frontier: How Midcentury Modernism Shaped Our View of the Future
Conceived and written by experts in the field of midcentury modern design, this is the book on Retro Futurism you've been waiting for. Authors Dan Chavkin and Brian McGuire have extensively researched every episode of Star Trek, the original TV series (1966-1969) resulting in a comprehensive and fun look at what we thought the future was going to look like back in the 1960s … or rather, what Star Trek envisioned the future as. Filled with an assortment of colorful photographs, diagrams, obscure vintage advertisements and insights both Star Trek fans and midcentury modern enthusiasts will appreciate, this insider's guide deserves a place on your bookshelf or coffee table. It's probably the most unique Star Trek retrospective ever written. Weldon Owen, Hardcover, 168 pages, August, 2021
CoCo Cabana: Designed for Gracious Living
Full disclosure, I wrote this book so I'm not exactly objective about it, but for those who love desert modern architecture and Palm Springs' midcentury history, this may be just what you're looking for. CoCo Cabana was designed in 1955 and operated as a garden apartment hotel for over 20 years before being converted into condominiums in the late 1970s. Extensively researched and filled with vintage photos, advertisements and newspaper clippings, this snappy, glossy booklet unearths details about the CoCo's history that were long forgotten … until now. From its roots as an upscale midcentury hotel, to its glory days as a tennis hideaway for the inconspicuously rich and famous, and everything in between, you'll learn more about CoCo Cabana's storied Palm Springs history than you'd ever thought possible. Self-published, Softcover, 40 pages, April, 2021
Atomic Ranch: Remodeled Marvels and Star Trek: Designing the Final Frontier are currently available at Amazon.com
CoCo Cabana: Designed for Gracious Living can be ordered here.
© Modtraveler.net