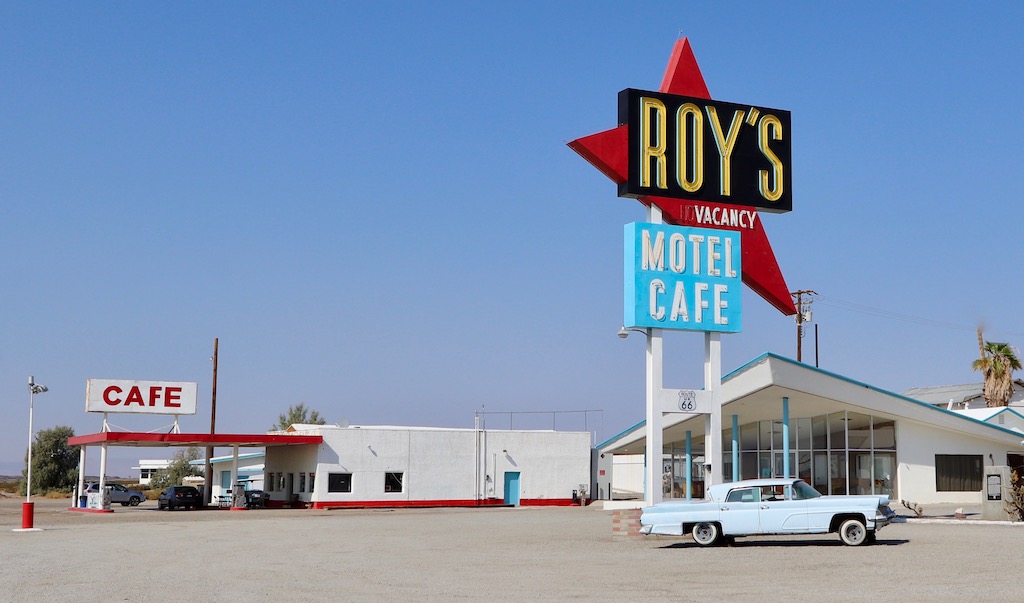 Roy's Motel & Cafe is a Route 66 Must-See
By Ken MacIntyre
January 10, 2022 – As any retro road tripper will tell you, Roy's Motel and Café on old Route 66 in California's eastern Mojave Desert is a bucket list must-see of mid-century proportions.
Built in the town of Amboy in 1938, originally as a gas station to service the needs of travelers journeying across America's first primary east-west connector – US Highway 66 – its founders, Roy and Velma Crowl, saw potential in the location.
Indeed, Amboy boomed in the 1940s and the Crowls teamed up with their son-in-law, Herman "Buster" Burris, to grow the business. They added an auto repair garage, a cafè and a motor court – precursor to the motel – with multiple small cottages to rent.
By the 1950s Amboy's population had transformed and swelled to 700, with 10 percent of them working at Roy's Motel and Cafè. Post War architectural styles were also changing to what we now call "mid-century modern" and by the end of the decade Roy's would install two of the most iconic roadside structures on California's Route 66.
Boasting an exaggerated roof pitched over a large wall of glass, Roy's guest reception and office "theme building" was added in 1959 and is considered a Googie marvel in the middle of the Mojave, even to this day. Roy's iconic 50 foot tall Neon Sign was also erected in 1959 and remained a beacon to thousands of travelers throughout the 1960s.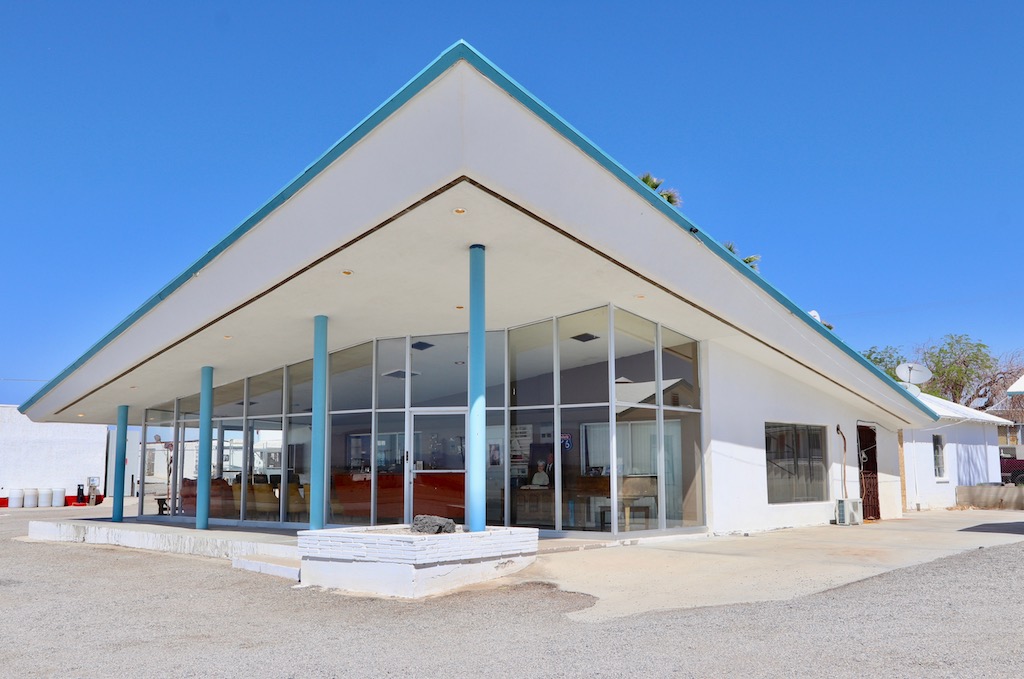 Buster Burris became the owner of Roy's when the Crowls retired in '59 – as well as the owner of Amboy itself – but sadly with the advent of Interstate 40 in 1973 the town's economy collapsed and Amboy went into a slow and steady decline with few travelers using Route 66 anymore.
Prior to Burris's death, in 2000, Amboy was leased to New York photographer Timothy White who tried to make a go of things by renting out Roy's as a movie location. The ghost town fell into foreclosure though and changed hands again in 2005.
Amboy is currently owned by businessman Albert Okura who's made it his mission to preserve and restore the town; re-establishing it as a roadside attraction for retro road trippers. Since taking over 16 years ago, Okura has reopened Roy's gas station and coffee shop (acting as a gift shop at the moment), refurbished its Googie "theme building" and in 2019 restored and relit Roy's iconic boomerang Neon Sign.
Future rehabilitation plans include the 20 room motel and six rental cottages. Located at 87520 National Trails Highway of US Route 66, you can learn more about Roy's Motel and Cafè at VisitAmboy.com or on their Instagram.