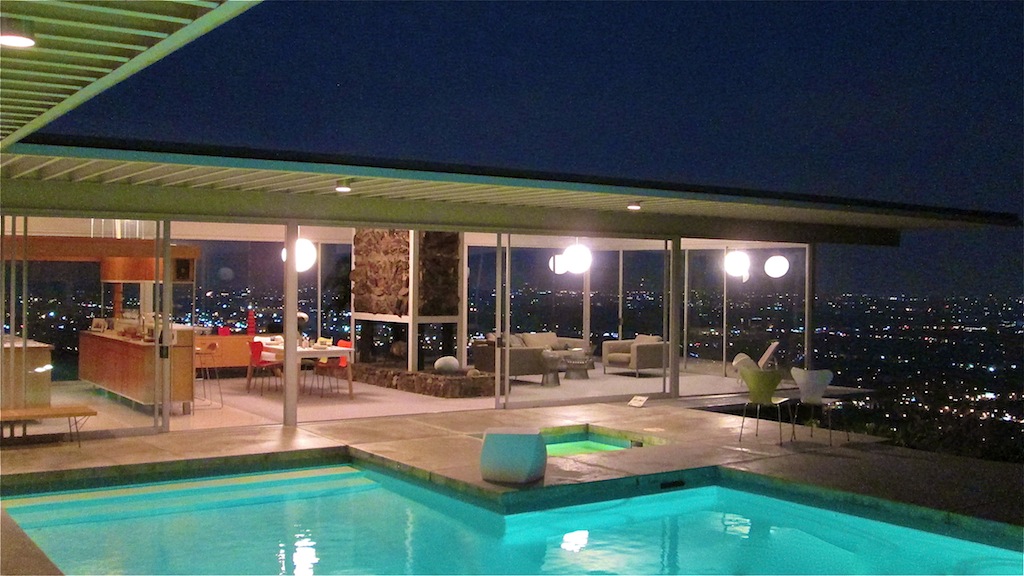 By Anant Topiwala, March 1, 2016
As an architect and designer, I have admired the Stahl House from afar.
In books and magazin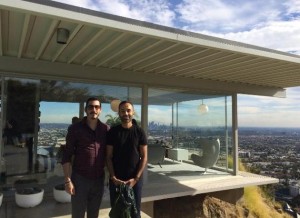 es I'd read about it as Case Study House #22, part of an experimental American residential program sponsored by Arts & Architecture Magazine to showcase new and forward-thinking ideas in post-war housing design and construction (1945-1962).
Conceived by its owners, Buck and Carlotta Stahl, and designed and executed by modernist architect Pierre Koenig, the Stahl House has been touted as a Case Study standout since it was built in 1959 – 1960, so on a recent trip to Los Angeles I set aside some time to finally take a tour of the renowned property.
Joined by my BFF, Jaime Rodriguez, and equipped with some pretty spotty GPS, we zig-zagged through the Hollywood Hills and rendezvoused with our tour group, albeit behind schedule. Thanks GPS! The friendly docents quickly checked us in while I eagerly peered through the carport's finely detailed breezeblock façade, which was apparently added sometime after construction.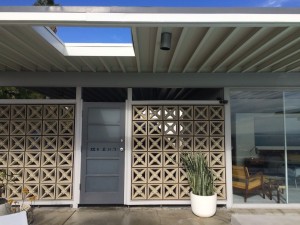 As we walked through the carport onto the pool deck next to the cliff side home's cantilevered living area, the view of the city opened up below us and I immediately pictured Julius Shulman's iconic photograph. The structure's low, flat, projecting roofline guides your view while large, glass exterior walls keep your visual focus through the living and dining rooms to the city beyond.
What also struck me was the scale and transparency of the residence. Its L-shaped layout around a central modest pool deck was inviting when compared to other neighboring and imposing structures.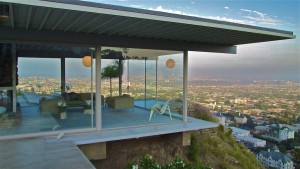 As we walked through the house, Jaime and I stumbled into the main bedroom, which it turns out was off-limits since the original owner's son is occasionally still in residence. Guided away by our docents into the second bedroom and living, dining and kitchen areas, I took note of various details.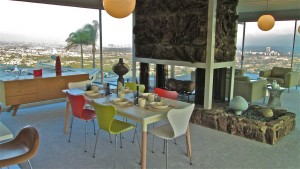 The wire hangars supporting the low kitchen ceiling, for example, create a 'pod' within the overall structure and acts as a spatial separator while still feeling open to the views and common areas.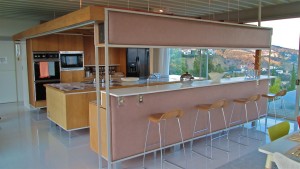 Additionally, the home's structural steel columns are hidden within the panels of glazing, which frame three sides of the building, while the clean line of the fascia cleverly hides a rainwater gutter.
Jaime and I also noted how livable the residence really was considering it's now listed on the National Register of Historic Places.
The structure, with its modest footprint and simple, low, transparent form, also exists to frame and focus the surrounding view of Los Angeles, and while this design component cannot be denied, I now appreciate the vision the owners and architect had, even more, for a modern way of living that respected the challenging site constraints.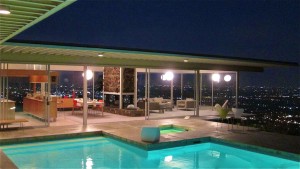 Unlike the polished look of contemporary modernism, the Stahl House is very much an example of livable mid-century modern housing. The building at its core, though, is a story about a young couple and an architect; Buck and Carlotta Stahl raising a family, with a vision of a home ahead of its time, and Pierre Koenig, who took that vision and turned it into what it is today, an icon of 20th century architecture.
For more information on the Stahl House or to book a tour, visit StahlHouse.com.
© Modtraveler.net