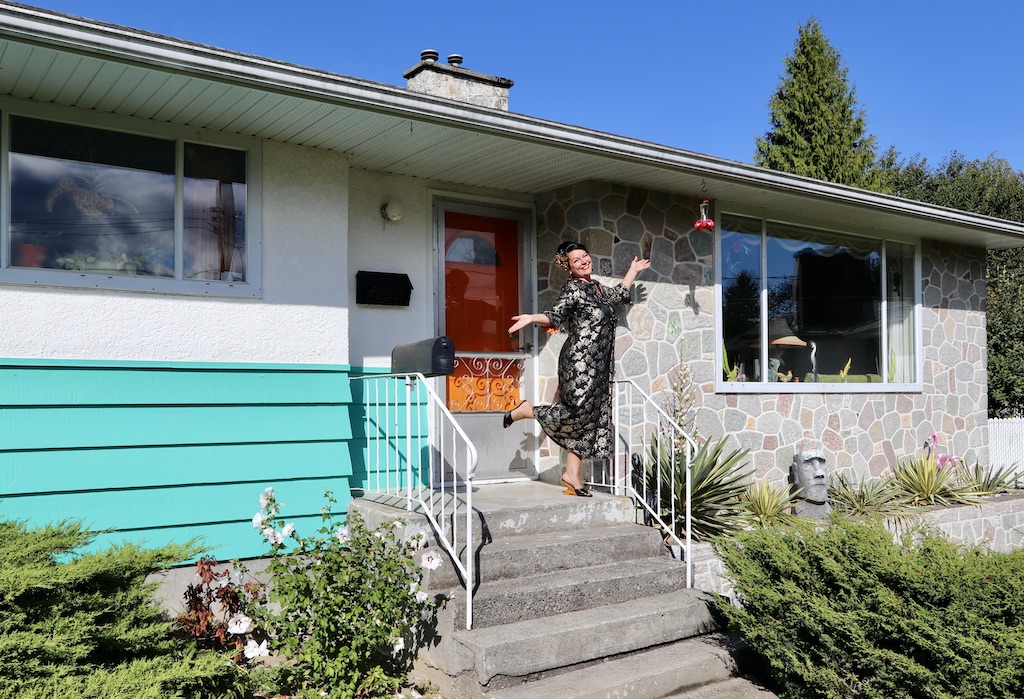 Lisa Rathbone's Love Affair with the Past
By Ken MacIntyre
(October 1, 2023) In a world smitten by the allure of shiny new things, there are those of us who find solace in the timeless elegance of the midcentury aesthetic. There are also those who can take it to a whole other level.
Meet Lisa Rathbone, 48, a Canadian enthusiast who's not only embraced the enduring qualities of midcentury design, but has woven the entire era into the very fabric of her life. With a love of classic cars, tiki culture, a meticulously curated midcentury home, and a creative business that bridges the past and present, Rathbone's passion is a testament to the allure of those times gone by.
Preserving the Past
Her deep-rooted affection for all things midcentury was nurtured as a child with visits to her grandmother's house. "She had a huge impact on me when I was young," Rathbone explains. "Her home was safe, serene and cozy … and full of stories."
"Her décor was completely midcentury modern and pure magic to me. I found that after she passed, I longed for that sense of calm and sophisticated elegance. I aspired to the warm glow of teak and elevated cocktail hours, with vinyl records providing the intimate background music to house parties with good friends, making memories."
The midcentury lifestyle, marked by its simplicity and elegance, deeply influences Rathbone's daily life and she sees herself as a custodian of an era where elegance and poise were paramount.
"I wish we still lived in a time where people gave thought to how they move through the world," she says, "when people dressed for outings, when women did their hair to go to the grocery store, and people wore their finest when flying to a holiday destination."
"I guess what I'm trying to hang on to is that this era seemed to have meaning and purpose. This lifestyle and my home let me live that on a daily basis.  When you brush your teeth and put your toothbrush in a vintage lady head vase, how can you not feel elegant?!"
A Home Reimagined
The embodiment of Rathbone's midcentury love affair is her home, a sanctuary she acquired nearly fifteen years ago.  Built in 1956, her Chilliwack, British Columbia residence serves as a canvas for her adoration of this timeless era, meticulously restored it to its former glory.
"My home is my world," she says, "it's where I want to be" … and when asked what kinds of midcentury artifacts she prefers to decorate her home with, Rathbone doesn't hold back.
"I never know what I'm looking for until I see it," she explains. "If a piece makes me gasp or sweat I know it's meant for me. I also don't have a limitless bank account, so if there's a certain something I'm longing to acquire, I imagine it already being in my home. That's something my grandmother and dad taught me; how to manifest things into being. It's not always the quickest way, but it works for my budget!"
"The experience of it all is what's important. The search, the score, the memories, the stories. And every piece I own holds that. Every piece I can remember where I found it or who gave it to me. There's nothing better than having cocktails with new visitors and having them ask me, 'where ever did you find that?' "
Rathbone's vintage decor and furnishings, collected over many years, creates a living homage to the midcentury era. Contributions from family and friends, including cherished items inherited from her grandmother, find new purpose within her home.
"One of my favorite pieces is a velvet painting of my grandmother, from 1962 I believe, painted in Hawaii," she explains, "It hung behind her chair in her living room. When she passed, it went to my cousin. Several years later my cousin gifted it to me after visiting and saying how much my home reminded her of my Gram's house. It gives me such joy to turn on my vintage lamps and see the colours dance against that velvet painting. It shaped my life in a big, big way and it gives me inspiration to create."
The Art of Midcentury Expression
Not surprisingly, Rathbone's love for the midcentury era goes beyond her home. It also permeates her creative endeavors through Tiki Mae Studios, a recent business venture that melds her passion for vintage culture with her artistic talents.
Through Tiki Mae Studios, Rathbone seeks to make midcentury living accessible to all. Her creations, ranging from throw pillows to tote bags, provide a touch of midcentury elegance that anyone can incorporate into their lives. Her art, a bridge between past and present, allowing people to connect with an era they may have missed, or cherish.
But why the name, Tiki Mae Studios?
"I was going through a very public breakup at a Tiki event, in front of hundreds of people," Rathbone explains, "so, to make myself feel better, I went and changed into a vintage 1940s rayon Pake Muu dress and I felt like a million bucks. I visited with friends who'd just witnessed the break up and one of them said 'no wonder he's jealous, you look like Mae West,' to which another friend added, 'Yeah, Tiki Mae West.' That was very liberating, and the name stuck. It's now my Instagram handle. I couldn't use her name for my business, so I went with Tiki Mae Studios as a nod to my love of Tiki, my love of Mae West, and to my new beginnings."
Balancing Midcentury with Modern
Striking a balance between her passion for midcentury living and the demands of the modern world presents its own set of challenges, though.
"I try not to leave my house," Rathbone jokes. "There's really no way to balance it. If anyone has figured it out please let me know. I think the best answer for me is that I know it's always waiting for me when I get home."
Rathbone still contends the timeless appeal of midcentury design is why it endures.
"It's still very relevant … and everywhere," she explains. "If you look, really look, midcentury design is all around us, old and new. There's a very basic, generic simplicity that will never go away. It's in the shape of a toaster, it's in the shape of a sofa. That clean, modern, classy elegance will forever be a part of this world. It's relatable to everyone, no matter where you come from."
And Rathbone's advice to those who'd like to echo her own experiences?
"Do it," she says. "Don't listen to those who tell you it's weird or that you can't pull it off. There is so little that brings true joy in life, and we are all on borrowed time. So if you find something that makes you happy, chase it with your whole heart."
Visit Lisa Rathbone's online store at Tiki Mae Studios or on Instagram @tikimaewest